Customer Reviews
05/10/2021
Matt

Australia
Fantastic
Super nice quality suede - comfortable and sturdy. Some colour transfer on the skin when first worn but otherwise perfect.
06/09/2021
Anonymous

Australia
Transformative strap
My Glycine Combat 6 Classic (white dial) is a putative field watch, but, realistically, it isn't really one (probably not water proof enough and certainly too shiny), and how many of us go field with our 'field watches' anyway? It came with a standard, but completely uninspiring, black NATO strap. I swapped it out for a brown leather one, which was a significant improvement, but after a while it seemed too ordinary. Some colour, verve and style was needed, and this blue suede strap has transformed my feelings about this watch. The suede is comfortable and visually appealing, and the white dial now contrasts wonderfully with the blue. I was wondering if I should flip the watch, but the strap change has made it a keeper. I've bought from TSSC before and this strap is well made and reasonably priced, so I'll continue to use them.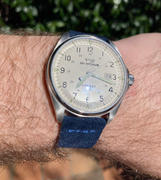 19/07/2020
Robin G.

Australia
Sleek
Wow. What a great strap.
12/07/2020
Greg C.

Australia
Love this strap
I'm very happy with this strap. The leather is soft and comfortable and the colour is just right. I had a black leather strap on my watch when I got it, but this blue suede strap softens the steel face nicely.
20/04/2020
Peter H.

Australia
Too Blue
lovely texture to the suede strap but darker than pictured. I could really use a lighter blue.