Customer Reviews
13/11/2021
Antonino M.

Australia
SINGLE PASS OLIVE & RED
Superb quality of materials. Picture also represents well the actual colours.
12/10/2021
Rohan M.

Australia
Don't know
Still waiting for them which is a bit of a worry
05/07/2021
Anthony S.

Australia
SINGLE PASS-OLIVE & RED
Looks great, feels great
27/02/2021
Adam

Australia
Makes Willard pop
Very happy with the olive with red stripe, its almost custom matched to my Green Willard. Comfy and breathable, love it! Quality seems higher than other Nato's I own.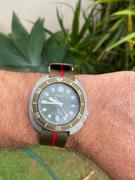 15/03/2021
The Sydney Strap Co.
Thanks for the review Adam, this looks like a great match-up on the Seiko. Appreciate your support. Cheers, Christian.
03/02/2021
Samuel H.

Australia
Nicely made and well put together strap- could have some tweaks
The quality and feel of the strap is good and it's quite comfortable, however both of the strap stays are the same width and clearly made for the strap to pass through 3 times which is fine for the one close to the buckle, though the other one just ends up siting really high of your wrist with a big air gap under it and can Get in the way sometimes. Also I've been wearing it for about two weeks and I may need to reseal some of the adjustment holes as they are starting to frey.