Customer Reviews
My review
The item was as described and it fits my pebble classic perfectly.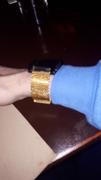 Issues
This gold mesh bracelet has a few issues. The mesh pattern is not quite parallel but because of this, the strap doesn't quite overlap properly when on the wrist. This also means that the clasp doesn't close properly without a fair amount of juggling and force. I have quite a few watches with similar mesh bracelets and they are quite easy to secure. I won't be able to use this mesh unfortunately, but that's ok. I've ordered a variety of leather straps from you in the past (orders # 2540, 2543, 2795, 2884) and they've all been fantastic straps and good price points. I'll continue to be a loyal customer but I hope that my feedback might be useful to you to ensure good quality control on your side.
Yes & No!
I recently purchased a watch strap from this company, I was very happy with the purchase process, very happy with their prompt postage, very happy with the safe arrival of my purchase and very happy with the product, all round a Five Star professional experience, unfortunately then the wheels fell off! I had a question, I shall give them a quick phone call, resolve the simple question, silly me, went to their Contact Us section on the website, no phone number, went to their invoice, no phone number, no matter, send us a message via this link and we shall get back to you, most likely within two hours, ok, no problem, explained my brief query and sent it off, told that my message had been sent, advised that a member of their valuable team would reply shortly and then waited for a response and waited and waited, ten days later I'm still waiting, in the mean time I have now resolved my original query myself. Such a shame that this company has been let down by their own system, I feel sure that once they get these things sorted out they will return to the Five Star company that they deserve to be. DD.