Customer Reviews
Black Filer
Great service, quick delivery. The quality of the buckle was not as good as I was hoping for, but still works well, and for the price point was fair value.
13/12/2020
Graeme C.

Australia
Excellent, both service and quality.
29/10/2020
Anonymous

Australia
The 20mm and 22mm Black Filer straps area good buy. The clasps are a little flimsy, but are strong, practical and attractive, and for the price one can't complain.
Comfortable, practical and attractive.
10/10/2019
Bennet D.

Australia
Black Flier
I like this strap, very flexible and comfortable on the wrist and easy to customise with a sharp knife. The clasp does have a bit of play that requires a bit of care to align when closing but holds securely once shut. It does require smaller diameter pins to attach to the watch which were supplied.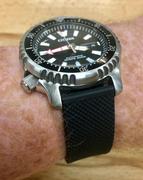 Great quick service
Service, advice, selection and quality were second to none, will be buying from them again.