Customer Reviews
The L.A.
Although it's colours unorthodox, the coupling of purple and yellow brings striking attention to the watch. The strap is of very high quality for its price, and although the hardware does initially seem loose, I can forsee the strap lasting for an undefined amount of time and abuse. I would definitely recommend this strap for those wishing to move away from traditional NATO strap colours.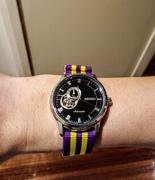 Nice homage
Nicely coloured "LA" strap ;) Feels comfortable and is worth the money!
Great colourway
Super quick delivery, and a unique colour design. Good value for money also.